First, of al I want to thank these sweet teachers who awarded me with a "Top Ten" award this weekend. You all rock .. and you all are in my favorite teaching blog list too!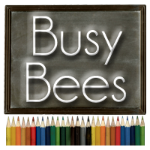 ---
So many of you are starting school tomorrow..I will be thinking and praying for a fun, organized and stress free day for you. And, I hope you get a little sleep tonight. I never sleep the night before school starts! HA! My mind won't shut down long enough to rest!!
We are starting week #4 tomorrow.. I "finally" believe that are settling into a routine and they know what is expected now. I really hope I did not jinx myself by saying that…
This is Clifford Week.. and I love that Big Red Dog! I usually require my students to do a family book report on a Clifford book.. but I choose to skip it this year. We will still read tons of Clifford books this week and I have several Clifford centers that they will work on. I also really hope we can squeeze in a Clifford art project.. but I feel like I can not fit everything into our schedule that I want to do. My students go to art 3x a week- so skipping a classroom art project makes the most sense. Even if it makes this creative teacher sad….
I also made a new door display to go up tomorrow. Our school's homecoming is coming up later this month.. so this is perfect. I plan to leave it up until October then put something Halloween on my door.. which is crazy. Halloween? All ready?
I have a question for you..
I had a reader ask me for chapter book suggestions.. and I gave her my list of ones I recommend. But I would love to hear what you read to your students. We are currently reading Junie B.. and I also enjoy the Mouse and the Motorcyle, Charlotte's Web, and Freckle Juice. Please share some other fun ones with me!
Well, the good news is that Monday is behind us and it we enjoyed a LONG weekend!!! The bad news is that I will be a day behind all week because it feels like a Sunday to me!
xoxo,
Kacey